Save Chair Time and Reduce Costs with DeLux Development Tools
When you need the support of a team with the right tools to do the job right, quickly and efficiently – look to the experts at DeLux to provide the backup and tools you need.
---
Try DeLux CT Radiographic Scanning Guides
DeLux Dental Laboratory provides our clients with CT radiographic guides, depending on the planning requirements of the software system to be used.
Upon completion of the diagnostic set-up, a CT radiographic guide serves as a template to attain the esthetics and function of the final prosthetic.
We work with Materialise Dental, Nobel Biocare, Biomet 3i Navigator, AstraTech Facilitate, Implant Logic Systems, iDent, and Keystone Dental.
Based on the 3D view of the patient's anatomy and the scanning appliance, software is used to assist the entire team in making the appropriate treatment plan.
Surgical Placement Stents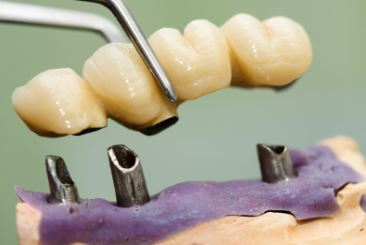 As an added development tool, DeLux is able to fabricate model-based surgical placement stents based on diagnostic wax-ups.
Fabricated with or without metal guide cylinders, our clear acrylic stents can be produced in a range of designs, in accord with your own surgical preferences.
DeLux provides the tools you need – beyond your expectations – to save you time and enhance your patient satisfaction.