Superior Porcelain Fused to Metal Restorations
DeLux is your dedicated and reliable partner in providing predictable, highly esthetic PFM restorations. Our technical team has proven expertise in material selection, treatment plan design, fabrication and technical support, so you get dynamic results with every PFM case.
---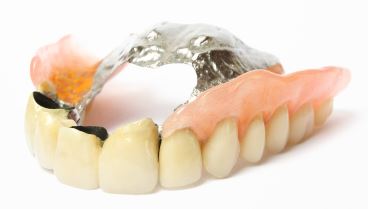 Porcelain fused to metal (PFM) restorations have been a standard in restorative dentistry for several decades. During that time, dentists around the world have adopted PFM crowns and bridges due to the versatility for use, as well as their ability to be matched to surrounding teeth.
PFM crowns provide an excellent balance between resilience and esthetics. The underlying metal portion of the restorations provides long-lasting durability, while the porcelain outer layer delivers a natural-looking appearance.
CAPTEK from DeLux: The Beauty Solution for Cosmetic Challenges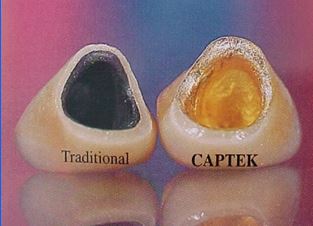 DeLux Dental's reputation for the highest quality PFMs is built on the quality and beauty of our hand-layered porcelain to metal crowns. We use the highest quality ceramics available today for long term durability and natural esthetics.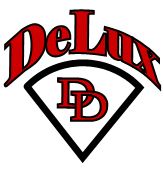 Our PFMs are constructed with CAPTEK, an advanced metallurgic technology for producing high gold metal substructures for crowns and bridges. It is an internally reinforced gold material that exhibits both the color, workability, and nobility of pure gold along with the strength and stability of the platinum/palladium family of cast alloy.
Patients and doctors are typically extremely pleased with our PFMs, which offer benefits including:
Eliminating Gray Margins
Extreme Bond Strength
No Special Chair Side Requirements
Superior Fit
Bridge Work
---
BEFORE: Traditional Crown
AFTER: CAPTEK Crown
---
Who is a Good Candidate for PFM restorations?
A patient may be a candidate for PFM restorations if looking for a strong, but aesthetically appealing crown or bridge. PFM is especially beneficial to patients who suffer with bruxism that could lead to the deterioration of all-ceramic restorations.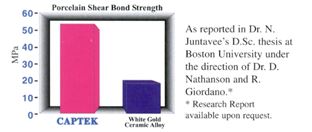 Potential reasons to choose a porcelain-fused-to-metal restoration are over their all-ceramic counterparts include their greater strength vs. traditional ceramics (though more modern ceramics have vastly improved on the traditional ones.) PFM's have a long track record of providing durable and lasting service; only all-metal crowns are superior in this regard.
Additionally, a more precise fit is possible because a PFM's metal substructure achieves a more exact fit over its tooth than an all-ceramic. This may only be of limited concern, however in theory the less dependence the tooth/crown relationship has on its weakest link (the cement in between) the better.
Features:
Indicated for single unit crowns, short and long spanned bridges and implants
Typically fused to base, noble or white high noble alloy
Greater strength than traditional all-ceramics
Benefits:
Superb fit
Natural looking esthetics
Conventional cementation
Excellent long-term durability
---
Indications & Contraindications
Indications
Single crowns, all bridge applications including long span bridges, implants, dark preps.
Contraindictions
Metal allergies.
Tips & Resources
ADA Codes
D2750  Crown – Porcelain fused to high noble metal
D2751 Crown – Porcelain fused to predominantly base metal
D2752 Crown – Porcelain fused to noble metal
D6240 Pontic – Porcelain fused to high noble metal
D6241 Pontic – Porcelain fused to predominantly base metal
D6262 Pontic – Porcelain fused to noble metal
Preferred Shade Guide
Vita 3D, Vita Classic