A Versatile System for Every Indication – IPS e.max
Want to delight your patients every time? Today they expect much more than the basics of a functional, healthy restorative solution. And with IPS e.max® restorations from DeLux, you'll be able to deliver.
---
IPS e.max® is a ceramic material which combines strength and beauty unlike any other dental restorative. It allows you to offer your patients exceptionally beautiful restorations which also demonstrate high mechanical strength. This innovative all-ceramic system opens up a whole new realm of esthetics, with solutions that are proven to provide outstanding results, performance and customer satisfaction.
Get started quickly – download our easy-to-use prescription now!
Features:
Single system for every all-ceramic indication
Adhesive, self-adhesive and conventional cementation
Highly esthetic lithium disilicate (LS2) for single-tooth restorations
High-strength zirconium oxide framework for
multi-unit bridges
One layering ceramic for combination work
Benefits:
Highly esthetic and natural appearance
Long-lasting quality & variety of colors
One layering ceramic for predictable, consistent shade results, surface gloss & wear properties −
even in combination restorations
Full biocompatibility with the human body
---
Before:
After: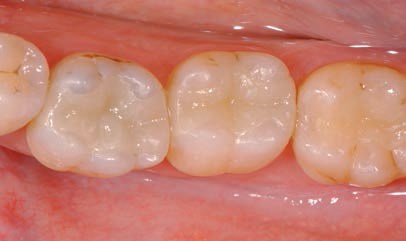 True Sophistication and Flexibility in Dental Science
As a wide-reaching and flexible restoration system, IPS e.max incorporates many good ideas. The system allows you to select the most suitable all-ceramic material, depending on the indication at hand and the required strength of the restoration.
Lithium disilicate (LS2) is used to fabricate restorations for single teeth in the anterior and posterior regions. The material exhibits exceptional esthetic properties.
The use of a single veneering ceramic offers decisive advantages, especially in combination work. All IPS e.max restorations demonstrate the same wear properties and appearance, regardless of the framework material used.
Lithium Disilicate – Esthetics, Versatility and Strength
The lithium disilicate ceramic (LS2) of the IPS e.max system deftly combines esthetics and strength. This is particularly true in single-tooth restorations, where it yields superior esthetic results, with a flexural strength that is 2.5x greater than other glass-ceramics.
Its indication spectrum ranges from thin veneers (0.3 mm) and minimally invasive inlays and onlays to partial crowns, full crowns and three-unit anterior bridges.
Advantages:
Lifelike shading for highly esthetic solutions
Long-lasting restorations due to high strength
Versatile use and wide range of indications
Adhesive, self-adhesive and conventional cementation
Before:
After: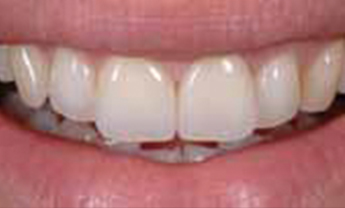 IPS e.max® Ceram – Natural Look and Vibrancy
The IPS e.max system features only one layering ceramic, regardless of chosen framework material or combinations. All IPS e.max frameworks are veneered with the highly esthetic IPS e.max Ceram layering ceramic to give restorations an individual character and natural-looking vibrancy.
Advantages:
One layering ceramic for lithium disilicate and zirconium oxide frameworks
Predictable shade results, surface gloss and consistent wear characteristics
Nano-fluorapatite for highly esthetic properties
IPS e.max Feature Video:
Indications & Contraindications
Indications
IPS e.max® is an innovative all-ceramic system which covers the entire all-ceramic indication range – from thin veneers to long-span anterior bridges.
Contraindictions
Very deep subgingival preparations
Patients with severely reduced residual dentition
Parafunctions, e.g. bruxism
Provisional insertion/trial wear period
Long-span posterior bridges
Tips & Resources
Flexible Cementation
IPS e.max restorations enjoy highly flexible cementation requirements. Crowns and bridges can be cemented according to adhesive, self-adhesive and conventional (while inlays and veneers are cemented adhesively, as usual.)
Depending on the indication, you may choose between adhesive, self-adhesive and conventional materials including:
Variolink® II / Variolink® Veneer – The dual-curing, highly esthetic luting composite Variolink II has provided excellent clinical results for more than 10 years. For the cementation of veneers, the light-curing Variolink Veneer is used, which permits a brightening or darkening of the ceramic restoration with its special shade concept.
Multilink® Automix – The universal, dual-curing luting composite offers a wide range of indications, generating a very strong and lasting bond. Used together with the Primer A/B, Multilink Automix seals the dentin and establishes a good marginal seal.
SpeedCEM – The self-adhesive, dual-curing luting composite is even easier to use than a conventional cement. At the same time, it offers the additional advantages of a composite, such as higher bond strength and translucency, as well as lower water solubility.
Vivaglass® CEM – The classical self-curing glass ionomer cement is suitable for the cementation of high-strength ceramic materials, such as IPS e.max, among others. It contains a particularly transparent glass filler for achieving esthetic results.
ADA Codes
D2610 Inlay – Porcelain/Ceramic – one surface
D2620 Inlay – Porcelain/Ceramic – two surfaces
D2630 Inlay – Porcelain/Ceramic – three or more surfaces
D26142Inlay – Porcelain/Ceramic – two surfaces
D2643 Inlay – Porcelain/Ceramic – three surfaces
D2644 Inlay – Porcelain/Ceramic – four or more surfaces
Downloads