Screw Retained Implants that Perform and Last
DeLux offers high quality screw-retained crowns that are much quicker to fit than a cement-retained crown.
The results speak for themselves!
---
An Implant Solution That's Simple and Practical
The choice of a screw-retained versus a cement-retained crown is a complex decision involving many points of consideration. DeLux Dental Laboratory offers both options. A screw-retained crown or bridge secured onto dental implants is often a great alternative to a cemented restoration. This offers a more secure bond than cement and removes any possibility of the complications that excess cement can occasionally cause.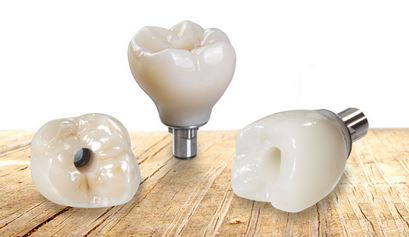 At DeLux we also offer a variety of abutments for screw- retained restorations. The range of superstructures allows for diverse restoration options with an emphasis on convenience and simplicity. Zirconia Screw-Retained Implant Crowns are an esthetic and exceptionally strong solution for addressing various prosthetic considerations.
Easy Ongoing Maintenance
The screw-retained restoration procedure allows for simple and easy removal and upholding of abutments during routine checkups, with minimal risk of damage to the existing restoration.
Features:
Easily removed without damage to crown
High fracture resistance
Outstanding esthetics
Ease of cleaning / maintenance
Benefits:
Ability to be used with limited inter-occlusal distance
Absence of cement under the gingival tissues as a potential irritant
Predictable retention
Retrievability
---
---
How Do We Decide Whether to Use Cemented or Screw-Retained?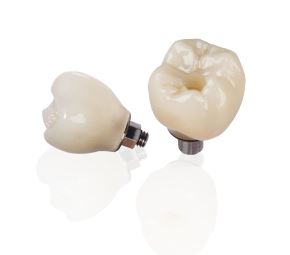 The screw-retained crown has both benefits and liabilities. The main advantage is retrievability. The crown is not only recoverable, but no damage occurs upon removal of the crown. In the event of loosening or fracture, the crown can easily be removed. Cleaning, screw replacement and assessment of surrounding tissue is also possible.
Many dental professionals consider a yearly cleaning and replacement of screws a prudent approach. The longer the span, the more important salvaging becomes. Most dental professionals believe a long restorative span, cantilever or full arch dictates screw-retained crowns.
Trust DeLux to deliver the superior quality screw-retained implants your patients deserve!
Tips & Resources
PREPARATION:
Use manufacturer's tooling to remove healing cap. For multiple units, start in the posterior and work toward anterior. Then, use manufacturer's tooling to place transfer coping. Ensure components are fully engaged before tightening screw. Take an X-ray to verify proper seating of components. Next, ensure transfer coping does not hit tray. Use heavy body vinyl polysiloxane impression material. Record impression. Finally, when impression tray is removed, the transfer coping stays in the mouth. Remove transfer coping and replace healing cap. For multiple units, start in anterior and work toward posterior. Place transfer coping into impression, ensuring proper fit. Send to lab.
CEMENTATION:
Seat screw-retained crown. Torque screw into place per manufacturer's recommendations. Next, use composite to fill over the implant screw.
ADA CODES:
tbd
DOWNLOADS: