Experience DeLux Quality Overdentures
When one or more overdentures are your patient's best option, DeLux provides you with the meticulous craftsmanship patients deserve. Try us and see why our clients return decade after decade.
---
Implant dentistry is a proven, predictable and viable treatment alternative for your edentulous patients. When you work with DeLux, you have multiple designs available that allow you to provide optimum care from an esthetic, functional and durability standpoint.
Overdenture Implants Resolve Patient Complaints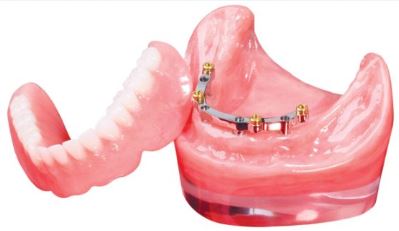 Patients that are edentulous after many years of wearing dentures have struggled to keep their prosthetic in place due to bone resorption. Their challenges can often be overcome by having dental implants placed in either the upper (maxilla) or lower (mandible) jaw.
Overdentures are dentures placed over dental implants and come in three types: locator, hybrid, and bar overdentures.
An implant-supported overdenture has the advantage of replacing a patient's teeth with more lenient implant placement positions compared to other prosthetic alternatives. The implant denture often allows for masking of implant positions.
Another advantage of an overdenture prosthesis is that second molar occlusion can be obtained if there is enough prosthetic space.
---
Edentulous Patient Complaints:
Retention
Stability
Function
Mastication (chewing)
Speaking problems
Benefits:
Eliminates embarrassing loose dentures
Eliminates need for messy denture creams and adhesives
Improves patient ability to chew their food and to speak clearly
---
Designing the Ideal Overdenture Implant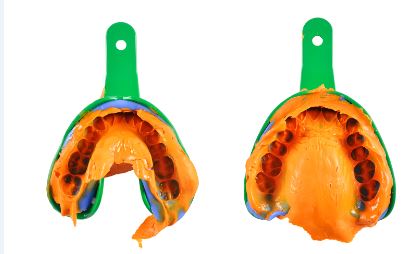 Successful case design and predictable results are directly related to proper case planning. A preliminary diagnostic wax try-in should be prescribed and approved by the patient prior to implant treatment. This becomes the guide to both phases of implant treatment – the surgical procedure, and then the implant-supported prosthetic rehabilitation.
Dozens of designs may be utilized in the restoration of the edentulous patient.
The number of dental implants needed is driven by the type of prosthetic desired. Two implants can be placed for retentive purposes if the overdenture is to be tissue supported. Using four to six implants the prosthetic can become a fixed (screw-retained) hybrid or a bar overdenture. Both of these prosthetics are implant supported.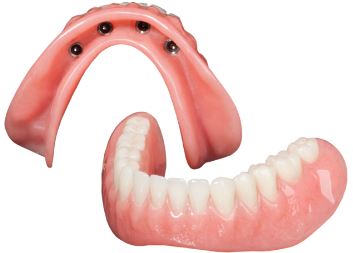 With six or more implants being placed, custom and or stock abutments are now an option for fixed crown and bridge work.
At DeLux we utilize advanced CAD/CAM technology to design and mill our implants. Various attachments can be used to retain the denture to the bar, such as Locators, ERA's and Bredent attachments.
Call DeLux to discuss the
best overdenture options for
your patient's needs!
Indications & Contraindications
Indications
Implant Attachment Overdenture (Tissue Supported): This is a conservative design option when the patient requires a less costly restorative alternative and a minimum of two implants are available to act as abutments for the locator abutments. This prosthesis is removable and improves abutment hygiene access.
Overdenture With Cast Bar (Implant/Tissue Supported): Requires a minimum of four implants with adequate A-P spread of at least 12-15mm. This prosthesis can be removed by the patient for hygiene access but leaves the primary implant connector bar in place.
Contraindications
Tips & Resources
ADA Codes
D5860 Over Denture – Complete
D5861 Over Denture – Partial
Downloads