Partial Dentures Yield Total Satisfaction
DeLux delivers economical, superior partials, offering exceptional performance and value with outstanding service and support.
Your patients deserve the best – now you can help them get it.
---
A Solutions That's Practical and Proven
Proven by the satisfaction of patients, removable partial dentures are a practical and affordable solution for dental restorations.
Dentists who are unfamiliar with the ease and convenience of Wironium removable partials often avoid doing removable partial denture cases. At DeLux, we use wironium as the metal base for our partial dentures – a unique distinction among laboratories, which requires official certification from the manufacturer.
As an additional capability, we also offer survey and design services to our clients. Our client can send a model of the patient's mouth, and our technicians will create the optimal partial design for that individual patient. And DeLux is one of the few labs in the country that makes all of our cast frames in-house.
Features:
Top rated alloy equal to type III gold
Beryllium & Nickel Free
Delicate design with higher luster of finish
Better adjustment properties
Lower Vickers hardness
Nitrogen enriched for strength
No facial clasp
Advantages:
Increased patient comfort.
Increased patient self esteem
Attachments or crowns not needed
Minimizing maintenance and cost
Maximum strength and function
Gentle on abutment teeth
Superior retention
---
Choose DeLux for Dependable Removable Partials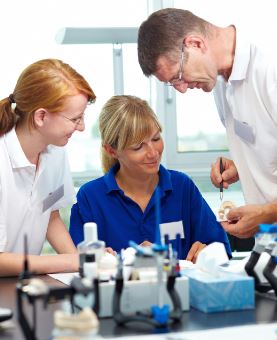 Covering the full range of potential patient needs, DeLux can produce a range of partial solutions for just about any requirement.
Cast Base with Acrylic Attachment
The most popular of all partial restorations. The major connector (base) is cast in Cr.Co. The teeth are secured to the frame via mesh extensions and pink acrylic. These proven restorations are thin, strong, stable and comfortable.
Acrylic Base Cast Mesh
Cast clasps with rests are tied together internally by a cast framework which is covered externally with pink acrylic. This tooth/tissue borne restoration is easily maintained or added to without the need for welding.
Facings/Tube Teeth/Metal Pontics
The addition of facings, tube teeth, or metal pontics to a cast partial framework is indicated when there is inadequate clearance for acrylic attachments. Metal backings, boxings and pontics, minimize premature wear and breakage generally associated with a close or "hard" bite restoration. (Shade is required prior to casting of frame)
The Secret Partial
A cast partial which utilizes natural and created contours for hidden clasps (class II) that are not evident to the casual observer. Speak to a DeLux Certified Dental Technician today for more information about the hidden profit in secret partials.
Common Concerns About Removable Partials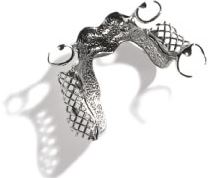 There are a number of common concerns dentist have about removable partials, incuding:
Clasp fracturing
Excessive chair time and rework
Low profit margins
Poor fit causing patient discomfort
Wironium eliminates these concerns. Now doctors can provide a superior, cost-effective removable appliances that will actually help grow their practice.
Wironium frameworks provide the most precise fit of any alloy that we have used.
What Makes Wironium a Better Choice?
With properties similar to a Type III gold, Wironium offers a more flexible, less breakable RPD. Combined with the finest investment materials that deliver unparalleled detail and fit, Wironium partials seat the first time, clasps are virtually unbreakable, chair time is minimized and patients are delighted.
Cleaner, More Accurate Castings – Wironium's phostphate-bond refractory materials produce ultra smooth surfaces.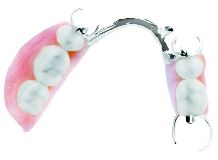 Better Fit, Better Alloy – Because our hydrocolloid and silicone duplicating materials reproduce the finest of detail, they guarantee the finest fit. Wironium's hydrocolliod unique air cooling technique further reduces any possible distortion.
Outstanding Technical Support – All DeLux technicians who work on our partials attend an in-depth, CDT-accredited training course to provide a clear understanding of Wironium's superior system.
Clinical prep guide available upon request.
Tips & Resources
ADA Codes
D5213 Maxillary Partial Denture – cast metal framework with resin denture base
D5214 Mandibular partial denture – cast metal framework with resin denture base
Downloads