Temporary Flippers Prepare Patients for Permanent Restorations
When your patient has a dental emergency, and is facing an upcoming meeting, event or is just self-conscious, DeLux can help.
---
What Sets DeLux Temporary Flippers Apart?
The DeLux Temp Flip is made from cold casted acrylic which allows fast turnaround time with either two ball clasps or two wrought wire clasps. The advantage of the DeLux Temp Flip is that it is very easy to remove or add teeth to the partial with small professional treatment.
Although it is considered a temporary solution, many keep this partial for several months – and with proper maintenance, it works very well. Also, it's been shown that patients are more likely to accept long-term restorative options if they are comfortable with their temporary prosthesis.
Advantages:
Cost effective tooth replacement
Esthetic and functional service
Increase tolerance for long-term restoration
Disadvantages:
Removable, must be cleaned
Cold-cured acrylic framework only, limited strength
Short term durability only
---
DeLux Alpha-T Flipper
Our Temp Flip is a cost effective, very temporary option to replace teeth while healing takes place. As the least expensive way to replace a missing tooth, it is often used while your patient waits for a dental bridge or for healing after a dental implant is placed.  It provides a cost effective way to temporarily replace up to 3 teeth fast.
Includes: Articulation, set-up, processing on master model, required teeth, finish and polish.


The DeLux Temporary Flipper Production Process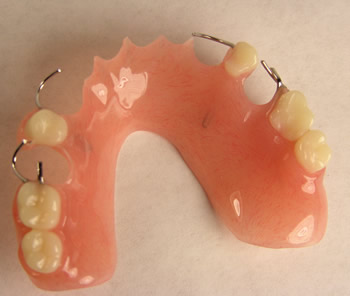 A dental flipper is made out of acrylic. It is made by taking an impression of the mouth, and then a plaster cast is poured. The cast is sent to a laboratory with a prescription that includes the shade of the tooth. An acrylic tooth is selected that most closely matches the shade of the teeth and a pink plate is molded to fit the palate (on the upper) or to fit just inside the tongue side of the teeth (on the lower).
If desired, wires with little ball ends can be placed to help secure the dental flipper in the patient's mouth. Otherwise, it is secured by the pink acrylic snapping between the teeth.
A dental flipper is meant to be temporary. The flipper presses somewhat on the gums and therefore is not very healthy for the gums. They also break easily, and it can be difficult to eat with them.
Let DeLux provide your patient's temporary restoration – satisfaction is guaranteed.
Indications & Contraindications
Indications
For temporary placement
Missing teeth in growing child or adolescent
Temporary for implant placement
Contraindictions
Not suitable for long-term use.
Tips & Resources
ADA Codes
D5820 Interim Partial Denture (maxillary) – Includes any necessary clasps and rests
D5821 Interim Partial Denture (mandibular) – Includes any necessary clasps and rests
Downloads